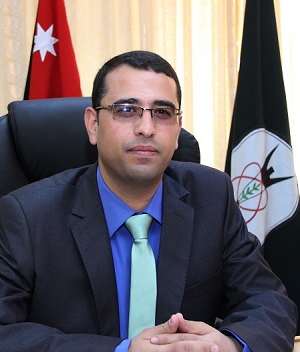 Dr. Anas M. AlSobeh - Center Director
(CV)
This email address is being protected from spambots. You need JavaScript enabled to view it.
http://faculty.yu.edu.jo/anas.alsobeh
In compliance with gracious directions from HRH Prince Al-Hassan bin Talal, Refugees, Displaced Persons, and Forced Migration Studies Center (RDFMSC) was established at Yarmouk University according to the Higher Education Council resolution No. (1396) dated 28th,July 1997. The Center is considered an extension of refugees and displaced Studies Program, which was founded at the university on 12th,July 1992.
The Center is mainly funded by Yarmouk University and other contributions of regional and international organizations. The Deanship of Academic Research and Higher Studies also allocates an annual budget for research conducted by the Center.
The Center seeks
To become an eminent research center in the Middle East.
To reinforce its staff with a researcher who will constitute the main core of research processes via suggesting and conducting research projects.
To reinstate the course of (Refugees and Displaced population) to the undergraduate academic plan as an optional requirement course. It is worth mentioning that this course was one of the essential courses in the Department of Economics under the code ( E110). This resolution comes as a fulfillment of the International Conference recommendations held in Amman (15th-16th, March 2016) which discussed the topic of "Refugees, Security and the Sustainable Development in the Middle East: The Need of North-South Dialogue", under the sponsorship of his excellency, P.M. Abdullah Al Nsoor.
To establish a Master Program in the field of Forced Migration Studies.
Vision:
We aspire to become a pioneering academic research center, dedicated to serve the issues of refugees in the region and the world.
Mission
We strive to raise the awareness of refugees issues and to conduct studies, research, and projects.
We hold conferences, symposiums and workshops related to the issue of refugees.
Objectives
The Center aims:
To encourage conducting research and studies related to refuge and displacement issues which are worsening day by day as a global phenomenon affecting humans and land.
To teach courses related to forced migration issues at the University as an optional requirement in the academic disciplines.
To develop awareness and comprehsion of issues related to forced migration and their several consequences on humanity.
To publish newsletters and other printed materials related to forced migration, and to exchange them with similar research centers around the world.
To hold conferences and symposiums related to the different issues of refuge and displacement.
To train local and regional staff to work with refugees to enable them confront any emerging incidents.
To attract support and funding from local and international donating bodies to conduct research and projects related to refuge and displacement issues.
Values
Maintaining the values of tolerance and coexistence, and to spread them throughout the society.
Respecting the diversity of multiple opinions, leaning to moderate points of view ,and avoiding extremism.
Raising awareness, hope, leniency, equity and credibility in all aspects of life.
Raising local awareness of refugees conditions and their humanitarian needs.
Publishing the results of scientific research with optimum credibility and transparency.